Commercial Printing
Every business must invest in visual materials to help them attract customers, whether from a mile away or at a close distance, through face-to-face marketing or direct mail. Visual materials like signs, banners, promotional items, and others will be able to introduce your brand effectively to customers even before they check out your store personally. Fortunately, you can get the best visual material for your business by requesting the personalized Minneapolis commercial printing service from Spark Embroidery & Printing.
Spark Embroidery & Printing is a trustworthy Minneapolis, MN printing company that offers personalized printing services for any business that needs them. Our team makes it a point to learn everything about the business to provide them with the right graphics, prints, and materials they would need. From business cards to large banners and signs, our team is always ready to make it a reality and help you with your goals.
We offer full-service printing for all our clients to keep our rates affordable and our quality high. We have a great team of printing experts ready to work with you on your commercial printing projects and get them done in no time at all. You won't be disappointed when you sign us up as your printing partner, as the results will speak for themselves once people see the prints.
Call Spark Embroidery & Printing at (814) 240-8980 for your Free Consultation with a Minneapolis Commercial Printing expert!
As a business, you need to have visual graphics that will help you promote yourself as a trustworthy company and showcase your products and services better than text. However, while it is easy to take pictures of your products and services, they must be framed in such a way people will be interested in availing of your offerings.
Spark Embroidery & Printing has a great team of graphic designers who can use even the vaguest ideas to create a design that is suited for your business goals and brand. We will include all the important elements for your graphics, from your business name, logo, and slogan to other information you want people to know immediately when they see your display.
We can make both indoor and outdoor graphics for any occasion and purpose. We can also add your graphics on documents like reports and even on mailing packages. Once people see your attention to detail and the graphics used for your business, they know you are someone who means business.
For a business to show that they are different from their competitors, they should invest in custom signs and banners that will reflect your brand clearly. With Spark Embroidery & Printing, you can get the right design for your signs and banners for any business activity and event and deliver them to you on time.
When we make signs and banners, we will use durable materials like vinyl, canvas, paper, and other similar materials to help your design stand out. We will make sure that the design is printed clearly in the material no matter your signs and banners' resolution. We will also make sure that the design promotes your brand very well and gets people interested in your offerings.
If you want to learn more about our custom signs and banners, you can contact us and let us know about your business, goals, design preferences, and budget. Once we get the details, we will be able to create a design that would suit the sign or banner you need. We can also help you with the installation and maintenance of your signs and banners to keep them working for a long time.
For internal documents, reports, and even catalogs for your clients to look at, you will need to present them in a clean and easy-to-use format. To achieve this, you need to get your documents, reports, and other paper materials you may have book bound.
Our team can bind any type of document you may have and customize it to match your brand's colors. We also use high-quality binding materials and equipment to guarantee that the binding won't unravel easily, even under constant duress. We can also do various types of binding, whether wire-o-bind or hardcover binding. Once we finish with your binding request, we will deliver it to you on time and help you with its distribution if needed.
We also offer our book binding service for personal books, school reports, thesis papers, and others. We can also handle the printing of your documents, then get them bound afterward, and if you have the documents on hand, you can give them to us, and we'll bind it for you.
Full-Service Print Shop
Whether you are on a budget or want something truly detailed for your commercial prints, Spark Embroidery & Printing has the experienced and talented team, latest printing equipment, and the best substrates ready for your projects.
Our team can take on any commercial printing request you may have and handle it from start to finish, from designing the print in the right format, and printing to either distribution or installation. We personalize our services to match the client so that they get what they requested down to the letter. Our experts can also recommend the best options, formats, and strategies to maximize the benefits these prints can bring to your business, as well as upgrade existing designs if you have them.
We guarantee that all the commercial prints we make are high-quality and they will work as you intend them to do. Since all of the tasks are done in-house, it allows us to keep our prices low and even adjust them if needed.
Let's Talk – Free Expert Commercial Printing Consultation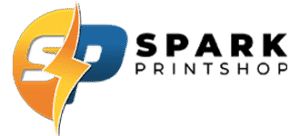 If you want a trusted Minneapolis commercial printing team to handle your business prints for any purpose, you can definitely trust Spark Embroidery & Printing to deliver. We have a great team of printing experts who can guide you through every step of our services, from designing your prints, getting them printed, distributing the prints to installing your chosen prints if they are large pieces like signs, banners, and large graphic displays. Whether you have a design for us to use or need a full commercial printing service, don't hesitate to let our team know, and we'll work with you to create your prints to achieve your goals.
When you reach out to us, you are guaranteed that you are getting a personalized printing service that matches not just your goals but also your design preferences and budget. So, contact our Minneapolis, MN printing company today to get started with your project!
Call Spark Embroidery & Printing at (814) 240-8980 for your Free Consultation with a Minneapolis Commercial Printing expert!