Minneapolis Graphic Design
Every business uses graphics to effectively promote itself and its offerings to its target market. From logos to large graphic installations, these graphics give customers an idea about what the brand is all about and what they can expect about the products and services they can avail themselves of through the business.
Unfortunately, not all graphics work as intended if designed poorly and do not match the business's personality and theme. Fortunately, our Minneapolis graphic design team at Spark Embroidery & Printing can help you get the right graphics designed for your brand.
Whether you have an idea in mind on how you want your business graphics to look or you have an existing design for us to update, we are ready to help you make them stand out and help your brand grow.
We can also help you determine what type of print format these graphics should have to achieve the best impression and match your budget. We will deliver everything to you on time and guarantee that they will be as you expected, as well as work well in presenting your business as a brand everyone can trust. Our Minneapolis, MN printing company won't disappoint whenever you seek our services.
Call Spark Embroidery & Printing at (814) 240-8980 for your Free Consultation with a Minneapolis Graphic Design expert!
Custom Logo Design
Every business should have a logo that would tell people what the business is all about, even if they haven't seen what you have on offer.
Logos are also important investments because they will help people get a good impression of your brand without overloading them with all sorts of information.
Spark Embroidery & Printing can create a logo for your business that is simple yet reflective of your brand's personality and image. We can also improve existing logo designs and add the elements it is missing to match your goals and ideal business image.
Let our graphic designers know what your logo should look like, and we'll handle the design to match it.
Business Branding
For people to remember a business, they must have a great logo and slogan that is easy to remember and relatable to your business. However, this logo and the graphics that will support it should be consistent with one another in order to deliver the message you want people to know about your business.
As people see your branding and marketing campaign and your message is delivered consistently, customers will be more open to building a close relationship with your business. They will also become curious about your offerings and consider you a brand they can trust. They will also become positively receptive to any campaign or promotion your business will make.
Our graphic designers will be on hand to help you achieve a positive impression from your customers and get the traction you need to stay in the game.
Custom Signs and Banners
In order for your customers to see your brand well, you need to have it incorporated into your signs and banners in such a way it is clearly visible and easy to spot.
Our Minneapolis graphic design service will guide you through each step of the sign and banner-making process in order to achieve the image you want for your marketing strategy and create one cohesive marketing design that will be made into signs, banners, and graphics.
We can make your signs and banners using durable materials like vinyl, plastic, canvas, and other similar materials. We can also install them for you in key areas so that they will immediately catch your audience's attention.
We make sure that when we make designs for signs and banners, they will have all the branding elements that represent your business, such as your business name, logo, slogan, and even contact information. Once they are installed, we guarantee that they will bring positive results for your business.
Your Designs, Perfected
It can be hard to compete in today's business environment because of the numerous businesses vying for the same clientele. A business will need to find ways to help its brand stand out and showcase its personality even before clients see your business. We can take on any design request because your business deserves something unique to stand as your brand and marketing design.
Spark Embroidery & Printing can also help you maximize the impact of your graphics and achieve the impressions you need to grow. We are the printing company you can trust for all your graphics needs and take it a step further by printing them in the right format. If you don't know what you need for your business or personal event, let us know what you are looking for, and we'll provide you with the information you need to make the best decisions for your project.
Full-Service Print Shop
Spark Embroidery & Printing is a trusted Minneapolis graphic design and printing company that offers full service for those who need graphics and prints for their personal or business events. Our team is dedicated to creating the graphics you need and getting them printed to help you achieve your goals.
If you avail yourself of our graphic design service, you will be guided by one of our graphic designers, who will translate the information you provide us into a design that matches your vision, goal, and print format. We can also work with existing logos and designs and adjust them accordingly to match your branding and targets. You can also count on our experts to guide you through the various print formats and materials available to pick the best option for your needs.
Once we have a draft design for your request and you approve it, we can immediately print it in the format you want and assist in its installation or distribution. You won't be disappointed with our services and you will be surprised at how well the final print works.
Let's Talk – Free Graphic Design Consultation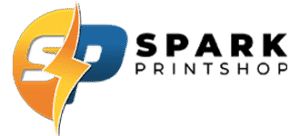 If you need graphics for your business or for your personal events, you don't need to go anywhere else to get it done by two separate companies. At Spark Embroidery & Printing, we have graphic designers who will work alongside our print experts to get your graphics ready for your needs and make sure that the design is what you want before it is installed wherever you need it. We are always ready to take on any design request and get it printed for use.
Want to know more about our Minneapolis, MN graphic design services as well as our printing service? Don't hesitate to contact us through our free consultation service, and one of our specialists will be with you to answer your inquiries.
Call Spark Embroidery & Printing at (814) 240-8980 for your Free Consultation with a Minneapolis Graphic Design expert!