Bag Printing
Apart from putting up signage and posting digital ads, giving away promotional items also promise great marketing results.
Customized bags—with their versatility and cost-effectiveness—are a type of promotional item that you won't regret investing in. And even if you're just looking for a nice gift, personalized bags are a great choice.
At Spark Embroidery & Printing, our Minneapolis bag printing experts are meticulous in the customization process, so your bags will not only be attractive but an effective extension of your branding efforts as well. We also utilize different kinds of high-quality bags so you can ensure that you will receive long-lasting items to aid in your marketing or personal purposes.
Our screen printing process is guaranteed to give your bags high-quality graphics that are vibrant and won't fade easily. Regardless of what style of bag you prefer, trust that our custom bag printing service can help you establish a good first impression and invite more new customers.
Whether you have a medium budget range or you want custom bags in bulk, we are always ready to tailor our service to meet your needs!
Call Spark Embroidery & Printing at (814) 240-8980 for your Free Consultation with a Minneapolis Bag Printing expert!
Custom Bag Printing for Businesses
Any kind of business can benefit from our custom bag printing service. Since we will design them to be unique to your brand alone, these bags will be ideal tools for packaging, promotional, and branding purposes.
If, however, you're still undecided about getting customized bags, here are some of the benefits that come with our Minneapolis bag printing services:
Direct mailing.

You can make your next direct mail campaign even more effective with customized bags. This way, your recipients will have a good first impression of your brand and will most likely make you their first choice whenever they need your products and services.

Cost-effective.

Custom bags have a low purchase cost, and if you plan to give them away during an event, you won't have a problem with additional transportation expenses since they're not bulky or heavy. Even if you order these bags in bulk, they won't take up too much space and will only take one vehicle to transport them to any venue.

Easy packaging.

Aside from being the promotional items themselves, custom bags can be your actual packaging tools so all your customers will have a reminder of your business when they get home. They can also promote your brand to every people who can see your customers carrying them.

Environmentally friendly.

More than being effective marketing tools, custom bags are good for the environment as they can be reused and recycled. Your customers or recipients can use them again for shopping or as storage in their homes.

Wide marketing reach.

If your bags are for packaging, any customer walking out of your store can passively promote your business. Any recipient of your custom bags can also further make your brand known to their friends and families, giving you more chances to expand your customer base.

Reinforced brand image.

Our customized bags will be designed with all your branding elements. By using your logo, name, slogan, and distinct brand colors, people will be more familiar with your brand and be more receptive to your other advertising campaigns.

Bulk and rush orders.

Spark Embroidery & Printing can handle all bulk and rush orders with a strategic printing process that will give you attractive, durable bags without taking too much money and time. Storage and transportation won't also be a problem since they're very handy and can be tailored to fit any kind of budget.

Highly customizable.

You can be as creative as you want with your bag designs; whether you want full-color graphics that cover almost your entire bag, no problem. You also get to choose what style, size, and material of bags you want to use.
Screen Printing for Bags
Since screen printing for bags is a budget-friendly investment, a lot of our satisfied clients are start-ups and medium-sized businesses. This service is also popular since orders can be placed even last minute. The printing process is straightforward, and after a design is finalized, your customized bags will be ready in only a short time.
There's no need to worry about your design being too bland or too crowded. We have graphic designers who will help you with the creative process, ensuring that every gradient tone and fine detail will be vibrantly printed on your custom bags.
However, if you want a longer-lasting design, you might want our bag embroidery service instead. You should keep in mind, though, that the embroidery process will take more time. Fine details and gradient tones won't typically translate well with embroidery too.
Easy Bag Customization
With our own team of Minneapolis bag printing experts working beside you, you can ensure that the customization process will proceed seamlessly and end with satisfactory results. We would love to work with your own creative ideas so your bag design will best capture your brand image while meeting your own expectations as well.
Additionally, we will help you choose what type, material, and size of bags to use depending on your purpose and budget. Included in the type of bags that you can choose are:
Tote bags

Paper bags

Backpacks

Attaches

Briefcases

Computer bags

Coolers

Duffel bags

Sports bags

Eco-friendly bags

Drawstring bags

Fanny packs

Lunch bags

Garment bags

Suitcases
Talk to Spark Embroidery & Printing today, and our bag printing experts will start planning the best custom bags that fit your goals and budget right away!
Full-Service Printing Company
No matter what printed material you're looking for, Spark Embroidery & Printing can provide them all. We also offer designing services so you can ensure that from the looks to the durability of your products, you will get the best value out of your investment.
Our graphic designers and printing experts can flawlessly customize your preferred products, whether they're for commercial or personal use. The following are some of the products we offer aside from our high-quality customized bags:
Signs and banners

Window graphics

Stickers and decals

Posters

Apparel

Drinkware

Graphic design
The next time you want attractive, compelling graphics on durable, quality materials, work with Spark Embroidery & Printing. We guarantee products that meet or even surpass your expectations while staying within a reasonable price range.
Let's Talk – Get a Free Bag Printing Consultation Today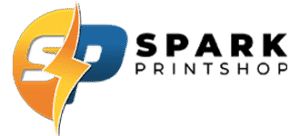 For more traffic from both old and new customers, invest in custom bags that make your recipients feel more valued and let them see your brand as a professional name they can trust.
Whether you want to give them away as promotional items during an event or use them as packaging tools, our Minneapolis, MN bag printing experts can customize your bags in the best way that fits your marketing goals and budget.
Call Spark Embroidery & Printing at (814) 240-8980 for your Free Consultation with a Minneapolis Bag Printing expert!