Postcard Printing
If you're searching for an effective marketing tool that won't cost too much but will deliver great results, Spark Embroidery & Printing offers a Minneapolis postcard printing service that could help.
With graphic designers and printing experts beside you, you can secure professional-looking, durable, and attractive postcards for your next marketing campaign. They can be customized to carry any message—from discount codes to simple seasonal greetings for your long-time customers.
You also have a wide selection of materials, allowing you to choose from paper stocks with varying thickness, size, and finishing. This gives you a perfect opportunity to have marketing material that fits your budget without compromising its appeal to your potential customers.
Even better, you can use our postcards for personal use. Customize them with a message and your photo before mailing them to your distant loved one!
Call Spark Embroidery & Printing at (814) 240-8980 for your Free Consultation with a Minneapolis Postcard Printing expert!
What Our Postcards can Do for You
Personal Use
Instead of the usual phone calls, chats, and video calls, you can reach out to your loved ones in a more impressive and meaningful way next time. With postcards, you can give them a pleasant surprise in the mail and make them feel more special without spending too much on your part.
Since postcards are easily customizable, you can personalize them with your photo/s and message. You get to choose what layout and theme will best suit your personality so your recipient will better remember you with your card. We'll also help you finalize its design to make it more appealing and more likely to be kept by your loved one.
If you need more design inspiration or you want to see a clue about how we produce our postcards, feel free to look through our design catalog. You can also ask our graphic designers to create the entire design for you.
Business Marketing
Postcards are budget-friendly marketing tools that you can use to invite new customers and keep the old ones by making them feel valued. They are easy to hand out, which makes them ideal for increasing brand awareness. They are also customizable for various marketing purposes.
Included in these purposes are:
Coupon cards

Clearance cards

New customer discount cards

Grand opening announcement cards

Birthday discount cards

General business information
… and many more!
Additionally, postcards are convenient items to bring to any event. You can transport them in bulk without the need for extra vehicles, unlike large signage or big promotional items. You can also simply display them by your counters or lobby desk for your guests or customers to take before leaving.
If you want, you can also tailor your postcards to have seasonal greetings and send them to potential customers through a direct mail campaign. You can then supplement them with other marketing materials for better results.
Ask our Minneapolis postcard printing experts for your options today!
Top-Notch Printing and Mailing Services
Equipped with top-tier printing machines and high-quality substrates, Spark Embroidery & Printing is a proud provider of every printing need. So when it comes to your postcards, you can expect our team to expertly handle everything from the graphic design to the actual printing.
More importantly, we can also launch your direct mail campaign in which your postcards can be a valuable part!
Our direct mailing experts will use the Every Door Direct Mail (EDDM) program of the US Postal Service to help create your mailing list and reduce your mailing expenses. With EDDM, you can ensure that you get to send your marketing materials to people who are more likely to visit your business and complete a transaction.
Just talk to our Minneapolis postcard printing experts and learn how to gain a better return on your marketing investment!
Full-Service Printing Company
Spark Embroidery & Printing is an all-around print shop with services more than printing alone. Our team is also composed of experienced professionals skilled in graphic design, copying, binding, and direct mailing. Whether you need these services for either commercial or personal purposes, we can tailor them to match your budget, timetable, and design preferences.
We are fully equipped with all the necessary printing equipment to perform all kinds of printing methods. Our choices of printing substrates are also as comprehensive as possible, allowing you to customize every product to best satisfy you.
The printing services we can readily offer include:
Black and white or colored printing

Digital printing

Screen printing

Large format printing

Variable-data printing

Graphic design

Copying

Binding services

Direct mailing services
Included in the printed products that we commonly produce are:
Business cards

Brochures

Posters

Flyers

Envelopes and letterheads

Calendars

Forms

Newsletter

Signs and banners

Promotional items
Anytime you need to get something printed, remember that Spark Embroidery & Printing is the best print shop that can provide everything you want. From quality paper stock to affordable prices, all you're looking for is here!
Let's Talk – Free Consultation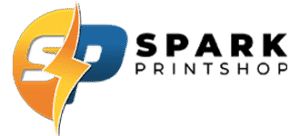 For a cost-effective way of widening your brand awareness and keeping a steady stream of customer traffic, you can't lose with our high-quality postcards. They can be customized to fit any business type, brand image, and budget.
And with the right printing company? You are guaranteed to reach more potential customers and get a high return on investment without too many expenses. So call our printing team today!
Call Spark Embroidery & Printing at (814) 240-8980 for your Free Consultation with a Minneapolis Postcard Printing expert!