Brochure Printing
For a thorough promotion of your start-up business or newly offered product or service, brochures are cost-effective tools you can use. They are handy printed materials that could hold lots of information and can easily be customized for an attractive, brand-consistent look!
Spark Embroidery & Printing offers a comprehensive Minneapolis brochure printing service that will allow you to work alongside an expert graphic design and printing team.
We will ensure that your custom brochures will have the best size, material, finishing, and folding option that matches your budget, brand image, and even personal preferences.
Regardless of how much your budget is and how soon you want us to deliver your brochures, our team is guaranteed to produce durable, eye-catching, and compelling brochures on time.
Call Spark Embroidery & Printing at (814) 240-8980 for your Free Consultation with a Minneapolis Brochure Printing expert!
Top-Notch Brochures and Services
Unlike running online ads, handing out brochures to potential customers will make your business easier to remember. This is because people will have a tangible reminder of your brand, which they could check out in their own free time. They could even review your details multiple times without constantly logging on to the internet.
However, you need to make sure that your brochure is as attractive as it is professional-looking. This way, recipients won't just throw it away so easily. That is why you will benefit from the experience and skills of our Minneapolis brochure printing team at Spark Embroidery & Printing.
Our job is to provide you with printed materials that will highlight your business's unique features/benefits in a comprehensible and engaging manner. We haven't failed our clients in this area, and we're confident we won't fail you as well.
If you're still unsure about working with us, the following could convince you:
Open to All Businesses and Organizations
Our brochures, along with all other printed materials that we produce, are available for all types of businesses. We also offer them in small-quantity productions to accommodate personal needs or medium-ranged budgets.
It won't matter what industry you belong to or who your target market is. Our printing team knows how to best customize your brochures so they will appeal to the right audience and properly reinforce your brand image.
And since we work with any budget range, our brochure printing service is available for all business sizes. From family-owned start-up businesses to big established corporations, everyone will be given the best custom brochure that gives the most value to their investment and promises marketing success.
Wide Range of Options
Customization is the key to a high-impact, memorable brand image. That is why Spark Embroidery & Printing always keeps your design options as many as possible when it comes to your brochure and other printed materials. Our graphic designers will even help you decide on the specifics, such as the size, folding style, finishing type, and paper stock to be used.
Since these options have to be considered depending on your budget and desired look, it's best to get an expert opinion. Included in your finishing type options are:
Standard matte

Premium matte

Standard uncoated

Premium uncoated

Standard recycled

Premium glossy
Folding options, on the other hand, include:
Bi-fold

Trifold

Z-Fold

Gate Fold

Accordion Fold

Double Gate Fold

Double Parallel Fold

French Fold

Roll Folds
Don't worry if you aren't familiar with all these styles or if you're not inclined to make artistic decisions. We have a design catalog that you can browse for inspiration, or you can simply let our graphic designers do their magic after expressing your general preferences.
Great Customization Control
With our Minneapolis brochure printing service, you can be as creative as you want in getting your marketing message across. You're free and encouraged to make your brochures as unique as possible so they'll create a clearer image of your brand that won't be easy to forget.
Additionally, the information you can include won't be too limited. Depending on the layout you want, you can have several images and your best selling points for a more compelling appearance. You can even include your credentials, business history, and other offered benefits to secure more new and loyal customers.
With Spark Embroidery & Printing, rest assured that your brochures would be customized with your brand name, font, logo, slogan, and colors in the most eye-catching way possible. We will also make sure that your template will have clear details and emphasized info that could hook your readers right away.
Full-Service Printing Company
For all your printing needs, Spark Embroidery & Printing is the partner you can trust. We serve both businesses and individuals with equal dedication to providing quality products. The printing equipment that we use is all industrial-grade and in good condition. All other materials we utilize are guaranteed to be the best for the budget that you have as well.
Additionally, every member of our team is trained and experienced in producing durable and attractive printed materials. Every graphic designer and printing expert we have will undoubtedly give you the best value for your money!
If you need anything other than brochures, note that we also offer the following printed materials:
Business cards

Postcards

Posters

Flyers

Calendars

Newsletters

Contracts

Manuals

Signs and banners

Letterheads and envelopes

Uniforms

Promotional items
…and a lot more!
The services we offer also include:
Digital printing

Screen printing

Large format printing

Variable data printing

Graphic design

Copying

Binding

Direct mailing services
Don't hesitate to contact us whenever you need any of the services mentioned above. Our printing experts are always ready to listen to your needs and provide the most cost-effective answer to them!
Let's Talk – Free Consultation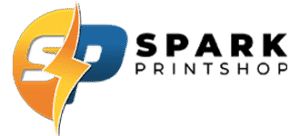 With more room to discuss what makes your business the right choice for your target market, brochures are proven to be an effective marketing tool that any business can invest in. And if you get them from Spark Embroidery & Printing, you are guaranteed an attractive and durable material that fits your specific budget!
Whether you need to promote new products or widen your customer base, our high-quality custom brochures can be the right tool for you. You can hand them out during events, include them in a delivery, display them on your counter, or use them in a direct mail campaign.
Talk about all your marketing options with our Minneapolis, MN brochure printing experts now!
Call Spark Embroidery & Printing at (814) 240-8980 for your Free Consultation with a Minneapolis Brochure Printing expert!