Binding Services
Having attractive, organized, and professional-looking documents is important for your approaching monthly management meetings, especially if you distribute newsletters, pamphlets, or other multi-page marketing papers.
Our Minneapolis binding experts can assist you in consolidating your business reports and documents in the most resilient and remarkable manner! Whether you are a student who needs to get your projects bound, a homebody who collects the entire family recipe, or a working professional who wants to impress your colleagues, we are here to bind what you need.
With long-lasting and quality materials, we can produce efficient binding services, whatever the number of pages and budget you have. We can customize the product according to your specific requirements to meet the quality you imagine.
If you need adept assistance in merging your business and personal documents in a timely and cost-effective manner, don't hesitate to contact us.
Call Spark Embroidery & Printing at (814) 240-8980 for your Free Consultation with a Minneapolis Binding Services expert!
Vast Options of Binding Styles
Spark Embroidery & Printing has offered unsurpassed Minneapolis binding services for years. We perform every existing binding method and will assist you in deciding which is best for you based on the number of pages, chosen look (flat-spined, opens upward, stays flat once opened), and the ideal material (plastic, wire, staples).
Here are some of the most popular binding styles we offer:
Saddle-Stitched
This style is preferred for documents with fewer than 100 sheets because this method only requires the use of an industry staple to combine your pages. Saddle-stitching ensures that your readers can easily read your document as a flat page and maintained even after opening the file.
Booklets, catalogs, periodicals, and other short-page reports are commonly saddle-stitched. This method generates long-lasting results while being cost-effective, specifically designed for small and medium-sized businesses.
Spiral Bound and Wire-O Bound
Spiral binding and wire-o binding are two other methods for flat-lying papers. The difference between these two binding styles is the material used; the process is the same from beginning to end.
Spiral binding allows you to have a single row of holes cut on either side of your pages. As binding material, a plastic coil will be looped through these holes. The same procedure will be followed with wire-o binding. A wire coil, rather than plastic, will be used to loop inside the holes.
Whereas the process and the result are the same for both binding styles, wire-o binding provides a more dependable set.
Perfect Binding
This process starts by attaching the pages and then encasing them in the spine-attached cover. This creates a flat spine on which you can print your company name or other relevant information. Despite having to bind a lot of pages, perfect binding can keep the durability and aesthetic that you want.
However, it is important to note that if your pages are fewer than 4mm thick when combined, saddle-stitching is a better option. But when it comes to attractiveness and functionality, perfect binding delivers the best outcomes at the most affordable price.
Stapled Books & Booklets
If you prefer the most basic type of binding, stapled books are for you. Based on the name, staples are used to bind your papers. Documents with only a few pages, like informational booklets, short reports, and newsletters, are bound through this method. Stapled books are a good modality to achieve an adaptable binding style enduring the test of time without spending a lot.
You can also explore many other binding techniques aside from what's on this list. Contacting Spark Embroidery & Printing is the best way to do that so our binding experts can customize your binding project better. We would be delighted to go over all of your options with you!
Full-Service Printing Company
We deliver whatever printing service you need! Spark Embroidery & Printing is glad to introduce more than just our popular Minneapolis, MN binding services. In addition, we offer graphic design, printing, copying, and direct mailing services to persons and companies of all sizes.
We accommodate all types of printing needs, including digital printing, screen printing, large-format printing, black-and-white printing, and full-color printing, using quick processing printers and top-quality substrates.
Here are some examples of popular materials that we print:
Banners

Brochures

Business cards

Postcards

Posters

Newsletters

Flyers

Contracts

Manuals

Letterheads

Promotional items
…and so much more!
Speak with one of our printing professionals to learn more and for us to know how we can help you plan the best printable for your next marketing strategy!
Free Consultation Today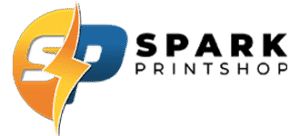 Go beyond the normal folders and paper clips. Your important papers might go missing or be mixed up with other documents. Free your readers from the struggle of reading while flipping pages over and over again. Avoid receiving a bad impression and invest in good binding service.
Our binding experts can improve your presentations to ensure that your pages are safe and protected and that you exhibit them in the most comfortable and competent manner possible.
Call Spark Embroidery & Printing at (814) 240-8980 for your Free Consultation with a Minneapolis Binding Services expert!